Click on this button to hide the configurations and see how the Dashboard looks in Full Screen.
Give the Dashboard a name.
Select Owner for the Dashboard.
Select height for the Dashboard. It is possible to select between Continuous and One Screen.
Continuous means that it is possible to add as many rows as desired, and the Dashboard will extend in the vertical direction.
One Screen means that the dashboard is limited to the monitor display, so the number of rows is limited.
Set the width to Auto or predefined sizes: 600, 800, 1000, 1200 or 1600px.
Select the default scale for the dashboard. This scale will apply to all appropriate Dashboard components. When viewing the Dashboard, it is possible to change the scale and scroll the data with the navigation buttons at the bottom.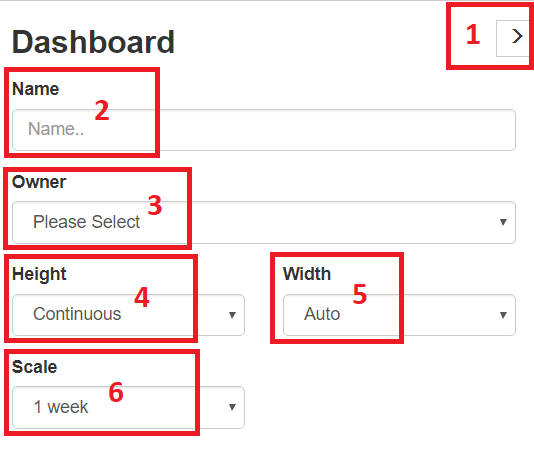 When adding a component to the Dashboard, click on the big plus button to add a row, and a component that will take 1/3 of the screen will be added.
Double click on the header, and the component will fill out the rest of the row.
Click on the x button to delete the component.
Click on the plus button to add a component.
Click the x button to delete the row.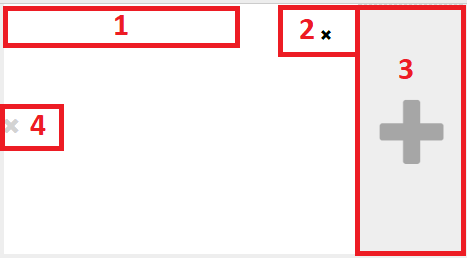 When a component is selected, and the mouse is hovered over the component's bottom border, an up and down arrow appears. When that arrow appears, it is possible to hold down the left mouse button to increase the component height. The following field pops up, where the exact height can be entered in pixels. If the mouse is hovered over the side border on the selected component, it is also possible to adjust the width.

When viewing the dashboard, those two buttons should appear in most components. The button on the left downloads the data from the component, and the button on the right will put the component to Full Screen when clicking on it.