Overview
Demo sensors are virtually created sensors that can emulate an actual sensemetrics supported sensor by providing real time readings. These sensors can be used for demonstrating what a sensor would output and how that output can be modified by entering different parameters and settings.
Adding a Demo Device

1. Navigate to the Connectivity page.
2. Click +Device from the Devices & Sensors Menu.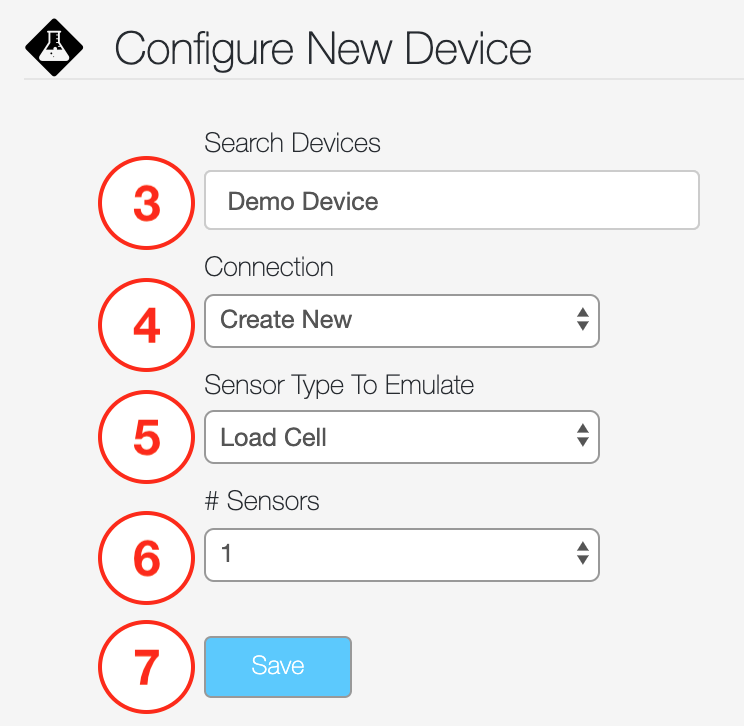 3. Begin by typing "demo" in the Device Lookup field and select Demo Device.
4. Select the Connection that these demo sensors will be associated with. If no demo connection has been made then "Create New" will be the only option.
Note: If create new is selected a new demo connection will populate in the connectivity module at the completion of this outlined process.
5. Select the sensor type to emulate, the options are below:
Load Cell
Position
Position (ENH)
Temperature
Tilt Biaxial
Vibrating Wire
6. Select the number of virtual demo sensors to create. You can create between 1 and 5 sensors.
Note: If more sensors need to be created repeating the outlined process will allow for more demo sensors to be created.
6. Click Save.
Your Demo sensors have now been created and can be accessed by dropping down the sensors under the Demo Device. From here, you can customize individual sensor settings such as sampling interval by clicking on each sensor and adjusting the settings.

Note: These demo sensors will populate random observations in perpetuity at the specified intervals. Data will continue to be created until the sensor is deleted.