Overview
In order to bring in data from GeoMos, the sensemetrics web application will establish a connection to the GeoMos Host computer. Once completed, the selected Geomos project, sensors, and associated data on the GeoMoS Server will be available on the Asset within the application.
Integration
The platform integrates with Leica GeoMoS in two distinct ways. One option is for the application to act as the connectivity segment of the whole GeoMoS solution where the THREAD and cloud application connects the Leica instrument with the controlling GeoMoS software.
If connectivity is already established between the instrument and GeoMoS then the app can provide the data visualization and analytics software. A visual rendering of the different integrations is shown below.
How it Works
When a GeoMos server is added it will be treated as a connection within the sensemetrics framework. Once established, the user will be able to pick and choose which projects to sync with the system. AMTS's used on the chosen projects will be imported as Devices and each prism measured by that AMTS will act as a Sensor.
Adding a Leica GeoMoS Server
1. Go to the Connectivity Page and click the "+ Connection" button.

2. Select "Leica Geosystems" on the selection bar on the left side of the page.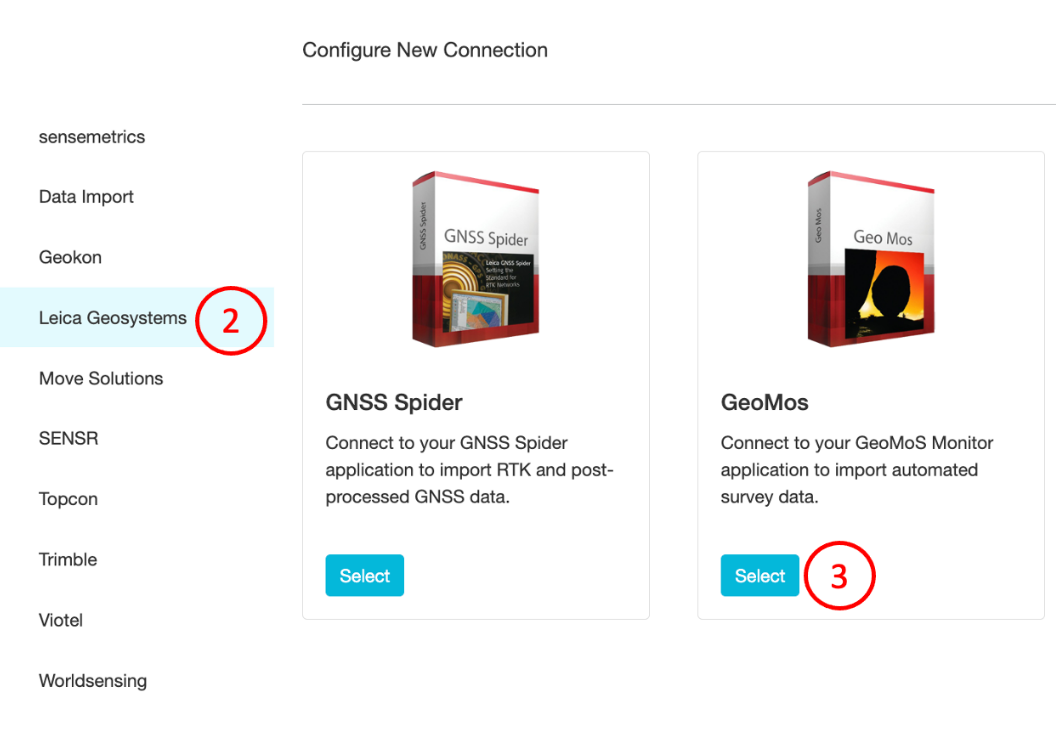 3. Click on the "Select" icon on the right side of the page under the "Geomos" card.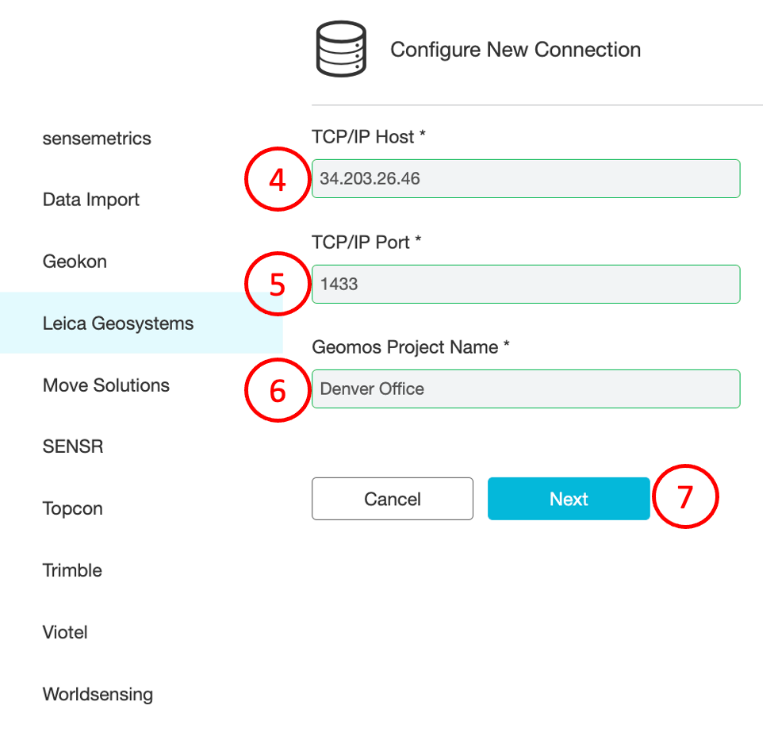 4. Enter the TCP/IP Host of the GeoMoS Server, this will be the external IP address of the Windows machine that's running GeoMoS.
5. Enter the TCP/IP Port of the GeoMoS Server, the default port is 1433 unless custom-configured differently.
6. Enter the name, as configured in Geomos, of the Geomos project that you want to bring into the Asset as a conneciton.
7. Click the "Next" icon, and the GeoMoS Server connection will be added to the asset.
8. The Administrator login credentials will be automatically populated. Please confirm that the username and password are correct. If not automatically populated, please input the information.
9. After confirming all connection details are accurate, click the "Apply" icon. Sensors and data will begin populating shortly within the Connectivity page. An example of the connection and associated sensors in the Connectivity page is illustrated below. Note: If the configuration details are incorrect, the Geomos connection may not be successful.